Magni: a family of entrepreneurs involved in the mechanical engineering sector since the 1950s.
Pietro Magni began as a tractor repair mechanic and farm cart builder and later went on to manufacture tower cranes for the construction industry. In 1972, he founded FARGH SpA with his children Riccardo, Giorgio and Franca, a company that designs and manufactures hydraulic cranes.
In 1980, FARGH designed and built the first telescopic handler in Europe, the FARGH 4000 FS, with a patented boom.
Riccardo Magni succeeded his father in 1981 and, based on the first prototype, created the FARGH 5000 RT and FARGH 3000 RT. These models were extremely innovative at the time and formed the basis for a joint venture with a group that has been one of the global industry's leading figures for over 27 years. The partnership came to an end in May 2009.
Understanding of the market and innate Italian know-how
Throughout that long period, Riccardo Magni made significant contributions to the technical and economic development of the Italian branch in his role as its CEO. He personally filed over 40 national and international patents, all for rotating and fixed telescopic handlers, for which he was the registered inventor. The patents remained the property of the multinational. In the latter half of 2012, Riccardo Magni – bolstered by 30 years of experience with rotating, fixed and heavy-duty telescopic handlers – decided that the market was in need of a significant technological improvement in order to meet the increased safety standards and improved services stipulated by new regulations and international clients.
Birth of Magni Telescopic Handlers s.r.l
Driven by this conviction and his ideas, Riccardo Magni founded Magni Telescopic Handlers in 2013 with his children Carlo, Eugenio, Carlotta and Chiara. Magni's experience and entrepreneurship, his constant contact with clients and his personal acquaintance with the dealers and repair mechanics created a force that have propelled this new 'Made in Italy' initiative to great heights.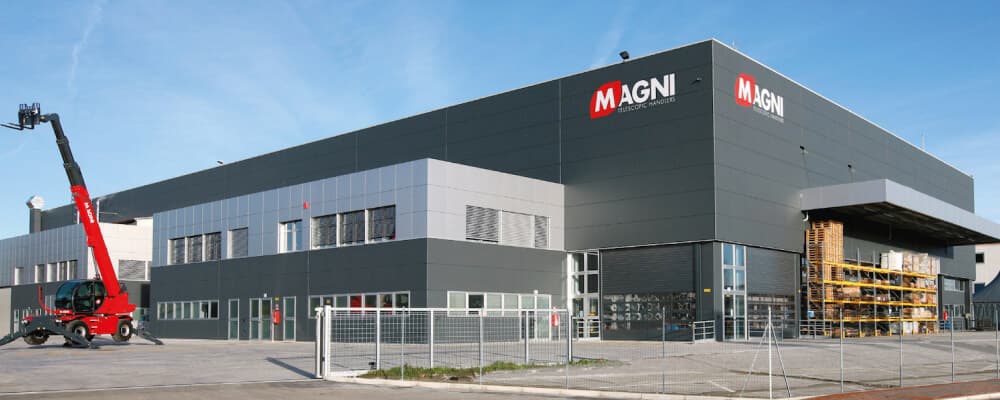 From zero to 100
Our understanding of the market, our ability to get ahead of the game and our undeniably Italian skills are written into our very DNA and have been the key to Magni Telescopic Handlers' rapid success.
Production of Magni's telescopic handlers started in January 2013. Thus began the development of the widest range of rotating telescopic handlers on the market, consisting of 16 models. There are also eight fixed, heavy-duty models and a new range of eleven fixed telehandlers. As a testimony to Magni's success, in the last two years Magni has created not only the two tallest rotating telescopic handler models in the world but also the model with the highest payload.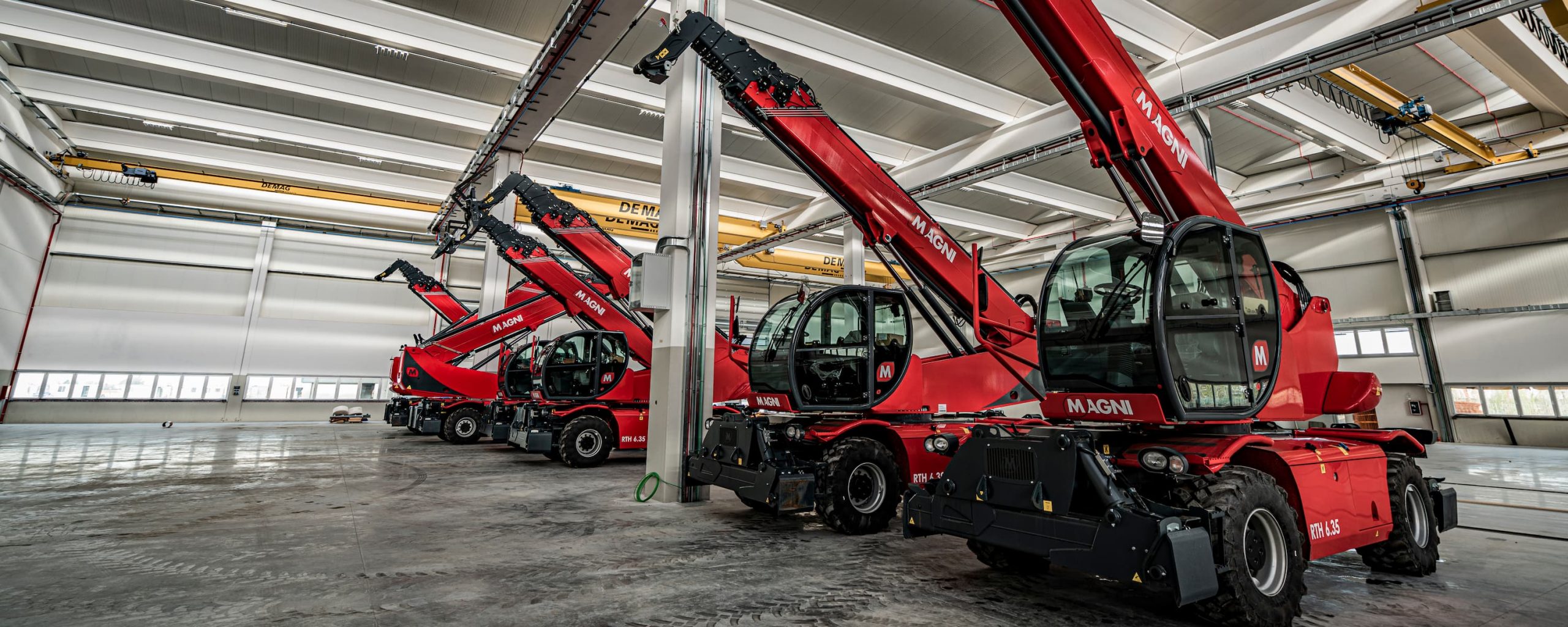 Market expansion: not only Italy
Italy was no longer enough and so six further branches have been set up: Magni TH France, Magni America, LLC, Magni Telescopic Handlers Uk Ltd., Magni Deutschland GmbH, Magni South Africa (PTY) Ltd, Magni Asia Pacific Ptd. Ltd, Magni Benelux and Magni Telescopic Latam Spa (South America).
To offer our clients the best technical and commercial service around, we have created a network of over 300 dealers, a number that is constantly increasing.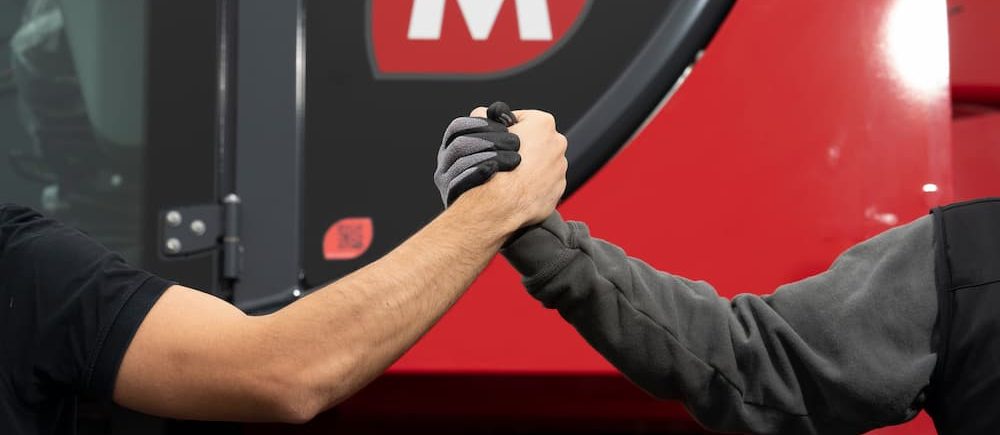 New HQ: ambitious but necessary project
In 2021, Mr. Magni decided to invest in an ambitious but necessary project.
Our facility had become too small. The decision to create a new and innovative HQ was almost inevitable. The production of our core range, the rotating telehandler, was increased over the year in order to meet market demand. Production was in fact tripled thanks to a significant expansion of the surface area and the implementation of robot cells.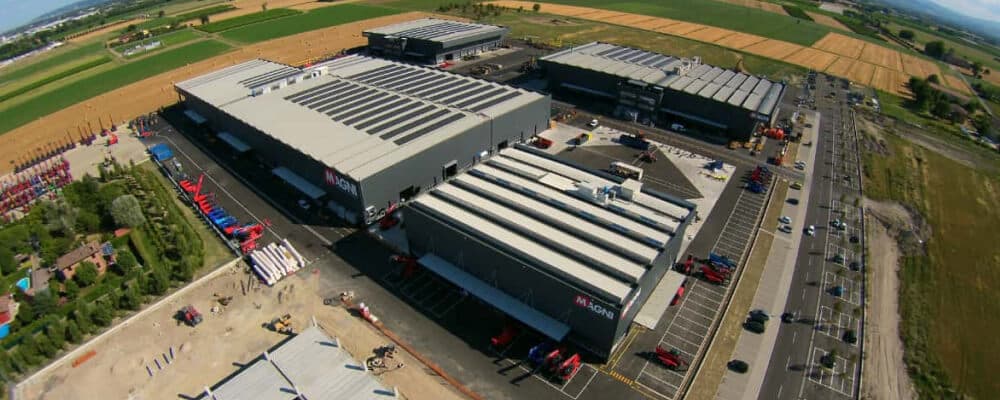 Green sustainability: the new Magni HQ in harmony with the environment
The new headquarters encompass a total area of 20 hectares, of which 36,000 m2 is built area, 3,200 m2 is  office space and 450 parking spaces with 6 electric car charging stations.  Being sensitive to the environment goes beyond embracing this issue.  Electricity is generated by 3,500 m2 of solar panels and 460 new trees have been planted. The structure is equipped with an underfloor heating/cooling system.
In compliance with a "zero kilometre" logic, the same production site will accommodate the main processes, such as painting, welding and steel cutting.
And this is just the beginning of our story.