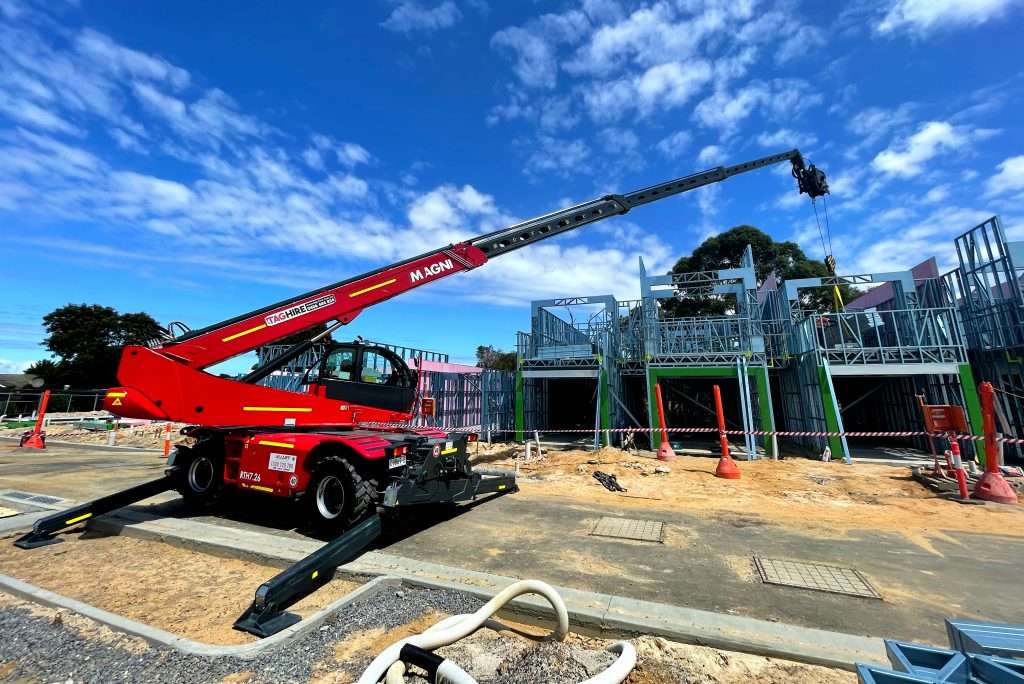 BUILDING SITES
Magni's telescopic handlers are able to fully satisfy any and all requirements in the construction sector; they allow any type of load to be positioned and manoeuvred at height in complete safety. For the operator, management of the machine is fast and intuitive, making machine operations immediately accessible. The advanced software technology and the FOPS/ROPS cab with full visibility indeed facilitate whatever kind of work is being performed.
The 360° rotating turret and exceptional versatility make the RTH range the ideal choice for those who wish to maximise efficiency with the use of a truly multifunctional machine. Thanks to the wide range of available accessories (forks, hooks, jibs, platforms etc.) and the automatic recognition system (R.F.ID.) for correct coupling of the accessory, the Magni RTH offers unmatched versatility.
What's more, both the rotating and fixed telescopic handlers are exceptionally compact, allowing for safe use even in construction sites with limited space or in urban areas.
MAJOR PUBLIC WORKS PROJECTS
Our range of rotating telescopic handlers combine craftsmanship, innovation and technology to offer the highest levels of performance in all circumstances.
For major public works projects, we have created a range of telescopic handlers with large load capacities and heights. Magni boasts the tallest telescopic handler in the world, able to reach a height of 51 metres to offer efficiency even on the most demanding construction sites.
The powerful hydrostatic transmission provides each wheel with all the power necessary to tackle the roughest terrain and the toughest slopes. Equipped with four-wheel drive, two forward/reverse gears and a rear tilting axle, the RTH range guarantees perfect stability and maximum grip, thus providing exceptional operational capabilities to operators in this sector.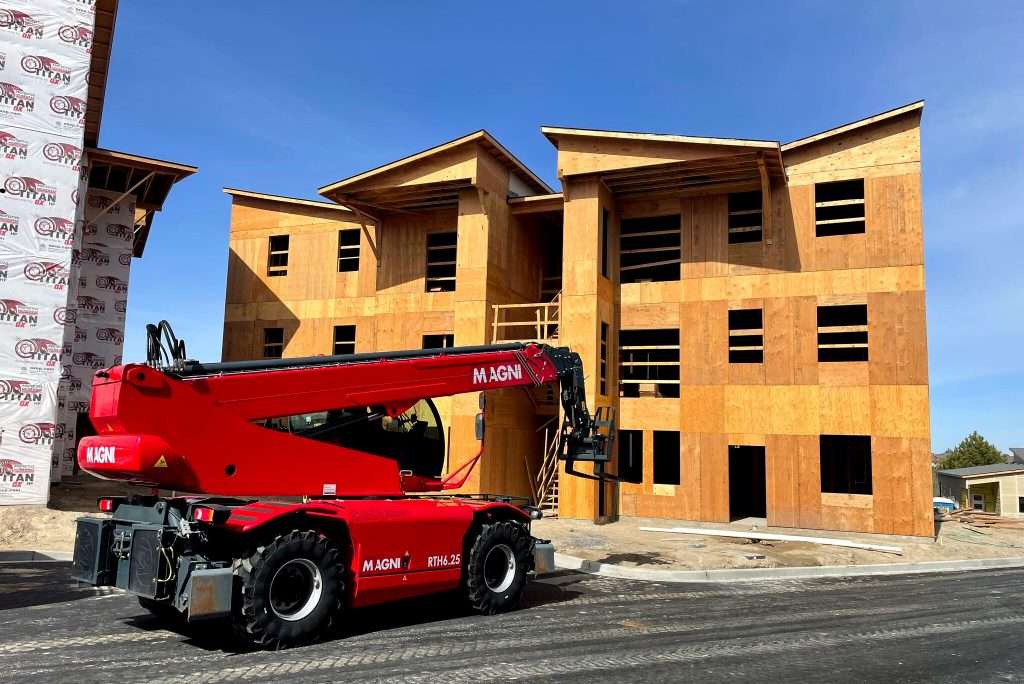 PREFABRICATED BUILDINGS
Flexibility, precision and, of course, safety are characteristics that Magni machines used with prefabricated structures must satisfy. Thanks to a wide range of specific attachments and machines with different performance capabilities and load charts, Magni offers a wide range of choices to operators in this sector. A large assortment of specific attachments greatly helps to increase the level of precision during operation. In particular, the Bluetooth remote control kit allows the use of all boom functions from the ground, thus increasing operator-side safety.
DEMOLITION
Demolition of buildings and other structures requires the highest levels of precision and safety. Magni's telescopic handlers are the perfect ally, providing excellent assistance both for handling and moving heavy and bulky material on any kind of terrain.
For greater comfort during long working shifts, a supplementary steering management function has been added. The automatic steering function allows the type of steering to be modified without needing to first perform manual wheel alignment: this function allows the machine's performance to be increased, and the three different steering types (round steering, front steering and crab steering) allow for movement and handling of the heaviest loads even in the most complex situations. The assistance of accessories is key in making these models highly versatile and ideally suited to this demanding sector. Clamps, hooks and buckets make the operator's efforts even more productive without the need to change vehicles inside the same work site.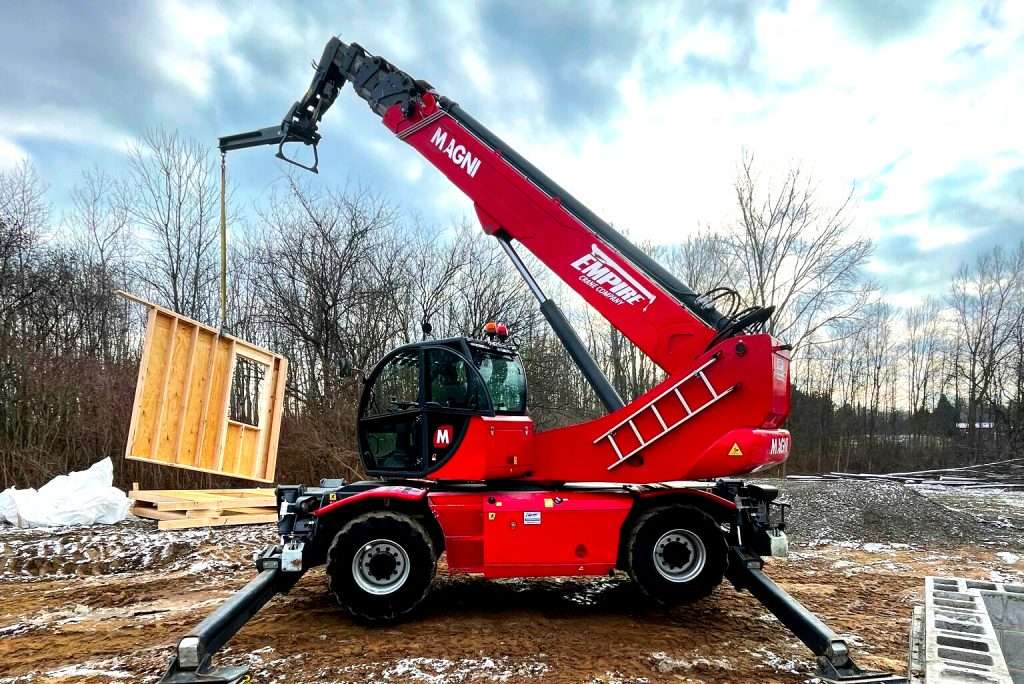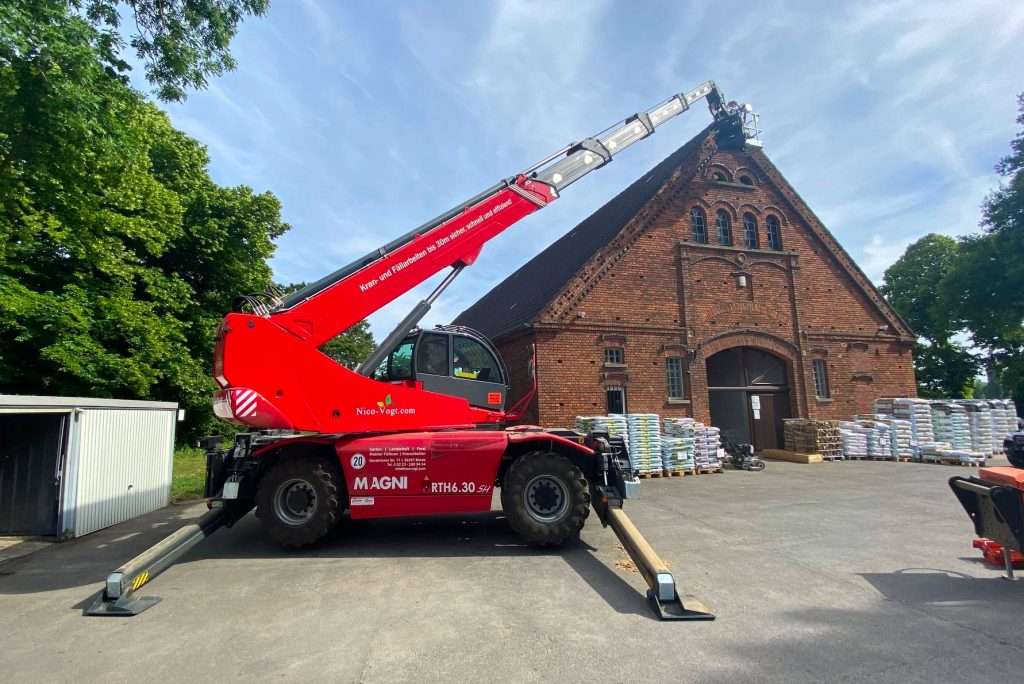 CLADDING
Magni has also taken the advice of professionals in the field of cladding and insulation into consideration when designing its range of rotating telescopic handlers and scissor lifts which offer the ability to reach different heights and lift different loads. They make it possible to position metal sheets and cladding in complete safety, without having to move the machine. The wide range of compatible baskets and attachments makes these machines even more versatile and multi­functional. Their compact size allows them to be stabilised even in areas that are difficult to access, guaranteeing complete functionality.
RENOVATIONS AND RESTORATIONS
The renovation and restoration sector is extremely demanding, requiring the lifting of heavy loads, but also exceptional precision and stability. Magni offers an enormous range of different telescopic handler and scissor lift models, with different heights and load capacities to meet site requirements. Both pivoting and scissor stabilisers provide maximum stabilisation, allowing for precision and preventing indentations in the ground. A wide range of attachments rounds out the offering.
What's more, the Twin Energy option makes it possible to work indoors in electric mode, allowing for restoration and renovation work even inside buildings. This kit indeed allows the machine to be used without starting the engine: by connecting to an external electricity supply (380 V), it is possible to power the machine and perform all normal lifting and load positioning operations.